Fountain Pens
Technical Pens
Steel Pens
Nib Store
Contents
Recommended Book
Pelikan Schreibgeräte 1929-2004
Writing Instruments
Jürgen Dittmer,
Martin Lehmann
A.H.F Dunkmann GmbH & Co KG
Aurich, 2004.
Two languages — German / English, 185 pages.
Completely revised, second edition, offers a complete survey of the pens made by Pelikan from 1929 to 2004.

Read more onTom Westerich's abruzzo.de
Download sample pages (pdf 1.8MB)

Pelikan Schreibgeräte 1929-1997
Writing Instruments
Dittmer, Lehmann
Baumhaus Vlg.,
Frankfurt, 1998.
ISBN 390948588X
Two languages — German / English, 133 pages.
First edition is out of print
Search libraries and antiquarian bookstores

home


Pelikan MC 120 deluxe This is a nice piston fill fountain pen with a 2mm calligraphy nib from circa 1980.

*The Pelikan M200B looks exactly like the MC120 but has an everyday writing nib. The vintage Pelikan 120 is a totally different pen.

Search eBay auctions for new and vintage Pelikan Pens and Calligraphy tools

Pelikan MC 110 (1985-1989) — Check out the long Pelikan calligraphy pens MC 110 and P 50 "Script" on Werner Ruettinger's site

THE PELIKAN COMPANY was founded 1838 in Hanover, Germany. In 1929 Pelikan introduced the black-and-green-striped fountain pen. The Graphos Indian ink fountain pen and the Plaka paints were introduced in the 1930s.
THE RUSSIAN ARTIST El Lissitzky (1890-1941) was one of the great avant-garde figures of the early twentieth century. He became seriously ill with tuberculosis in 1923 and went to Switzerland for treatment. During his convalescence, he supplemented his income by designing typographic and photographic advertisements for Pelikan. Kurt Schwitters, who was living in Hanover and working for Pelikan, probably introduced Lissitzky to the firm. Several of Lissitzky's advertising designs are displayed in the web exhibition "Monuments of the Future": Designs by El Lissitzky at the Getty Research Institute.
READ MORE about the 1980s Pelikan 120 Calligraphy Pen and check out a 1930s El Lissitzky poster for Pelikan office supplies at Richard C. Conner's fountain pen website Penoply

Pelikan 4001 Ink
Designed for all Pelikan and many other fountain and calligraphy pens. Pelikan's superior 4001 ink is water-soluble and non-clogging. Available in black, blue-black, red and royal blue from our US advertiser MisterArt.com.


Pelikan 4001 Ink Cartridges
The standard ink cartridge for all Pelikan cartridge fountain pens and many other brands, Package of 6 cartridges. Order from MisterArt.com.


Pelikan Special Ink Colors
Read Michael Richter's article about Pelikan ink colors that you didn't know existed — colors like Moss Green, Lilac, Cherry Red or Apricot — on Pentrace.com

Pelikan History Part I-IV
Interesting article by Rick Propas on Pentrace.com
(Rick Propas runs the PENguin — a website for fountain pen collectors)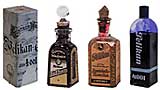 Deutsches Verpackungs-Museum
Vintage Pelikan ink bottles in the German Museum of Packaging

The PENNANT
Read about Pelikan fountain pens in The Pennant Vol. XV, No.2, Summer 2001 on the Pen Collectors of America (PCA) site.


Pelikan — The manufacturer's web site.


Souverän — High-quality writing instruments.

Search eBay auctions for new and antique Pelikan Pens.
Go to: Collectibles > Pens & Writing Instruments > Pens > Fountain > Pelikan
---


BLAM design
Hans Presto
Stockholm
SWEDEN
contact
latest update 20-oct-2004
this page's URL: http://hans.presto.tripod.com /scan/pelikan120.html




Search
»search the site
or browse the
site map
Pelikan Souverän

Souveran 1000 Green and Black Fountain Pen

The most exclusive and largest writing instruments of the Souverän range. Super-size plunger fountain pen. Large hand-crafted, finely engraved 18 carat gold nib with rhodium decoration. Gold-plated Pelikan clip. Solid brass components in the mechanism.
Buy Pelikan Pens from our US advertiser Executive Essentials

Vintage ads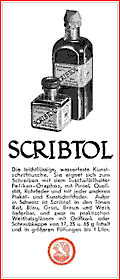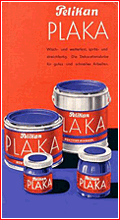 »Pelikan SCRIBTOL Ink and PLAKA paint advertisements.
[Images from eBay.com]