Pen points, Nibs
Nib Store
Brandauer Pens
»Nib Catalog
C. Brandauer, Circular Pointed Pens, Birmingham, England.


home

»These pens neither scratch nor spurt,
the points being rounded by a new process«

C. BRANDAUER & Co. Ltd
The original company Ash Petit & Co was founded in 1850. In 1861 the company's agent in Vienna, Carl Kuhn sent his relative Charles Emmanuel Brandauer to Birmingham to build a new factory. Brandauer & Co produced steel pens for over a hundred years. The company is still in business but they don't make pens today.

Review Pen No. 183

C. Brandauer & Co's
Mail Pen No. 139
Birmingham


View enlarged image

C. Brandauer & Co's
Telephone Pen No. 162
Birmingham


View enlarged image

C. Brandauer & Co's
Review Pen No. 183
Birmingham


View enlarged image


C. Brandauer & Co's
No. 17 F
Birmingham


View enlarged image
These nibs are not for sale.
Search eBay auctions for Brandauer pens, nibs and boxes.
The abbreviation "Ent Sta Hall" or "ENT. STA. HALL" is sometimes found on vintage British nib boxes. It is a copyright notice, meaning "Entered at Stationers' Hall". From 1554 until 1924 copyright was normally secured by registration with the Stationers' Company in London. [Read more in the Stationers' Hall Copyright Records]

Brandauer & Co Ltd
Precision Pressing & EMC shielding
More about the pen trade "The Brandauers remained involved with the business until the First World War, when the factory was confiscated by the British authorities on the grounds that the Brandauers were Austrian, and was eventually released to the Petit family." Read the whole story on Bob Miles' site »Explore the Birmingham Jewellery Quarter«.

BPTHA
The Birmingham Pen Trade Heritage Association.

Brum — the adventures of a little yellow motor car who lives in a motor museum in the Midlands is shot on location in the big City of Birmingham.

»search the site
or browse the
site map
Vintage Advertisements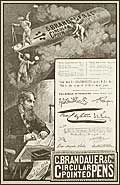 »Brandauer advertisement in "The Illustrated London News", 24. Jan. 1883, Brandauer pens and a Charles Dickens signature.
[Image from eBay.com]
»Brandauer 1894 advertisement
[View a large image on
sensationpress.com]

»Brandauer 1915 advertisement
[Image from eBay.com]
»Brandauer 1930's advertisement.
[Image from eBay.com]
»Brandauer advertisement in "The Outspan" 7. August 1936. [From the Virtual-Brum web site]
News Archive
Frederick C. Brandauer, a millionaire manufacturer of steel pens, interned at Douglas Alien Detention Camp, committed suicide by taking an overdose of veronal." 28th. April 1918
[From Isle of Man, Examiner Annual 1919]
Birmingham links