Fountain Pens
Technical Pens
Steel Pens
Contents




SHEAFFER Calligrapher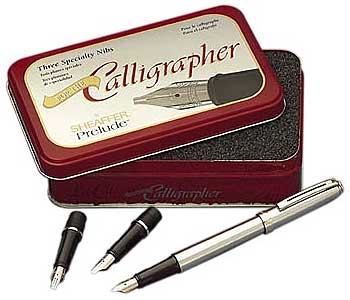 Prelude Calligraphy Set
Created specially for the experienced calligrapher. These sophisticated tools and techniques provide the advanced calligrapher with all the means to further develop their skills. The Sheaffer Prelude Calligraphy Fountain Pen comes with 3 calligraphy nibs and a beautiful storage tin.
Features & Benefits

Polished chrome findings offer a contemporary look and feel.

A complete Prelude writing instrument is included.

Sheaffer's Lifetime Warranty.
WE ARE SORRY! The Prelude Calligraphy Set has temporarily (?) been discontinued. Search eBay auctions for Sheaffer Fountain Pens
Check out the Sheaffer No-Nonsense Calligraphy Pens
The Sheaffer Prelude Chrome Fountain Pen
and the Prelude Chrome and Gold Fountain Pen
are still available from our US advertiser Executive Essentials.
Search eBay
online auctions for Calligraphy Tools or Sheaffer Fountain Pens

SHEAFFER writing instruments are designed to perform at their best using genuine Sheaffer® inks and refill systems. These specially formulated refills and inks will ensure a long write life and smooth flow of ink to paper. Sheaffer Skrip® ink, available in two-ounce bottles or packages of five cartridges.
Order Sheaffer Calligraphy Ink Cartridges
from our US advertiser Mister Art.com.


The Sheaffer® story begins in 1907, with the invention of the lever filling fountain pen by Walter A. Sheaffer in Fort Madison, Iowa. The fountain pens of the day were cumbersome and messy to refill, requiring an eyedropper and a steady hand. Sheaffer's dissatisfaction with this inconvenience led him to seek a refilling method that would be simple and clean.



The result, the first practical lever filling fountain pen, earned Walter Sheaffer a U.S. patent in August of 1908. A single stroke of a slim metal lever filled the pen reservoir directly from the ink bottle. Local reception was so enthusiastic that Sheaffer decided to risk his life savings to establish the W.A. Sheaffer Pen Company in 1912.

Since October 1997, Sheaffer® has been part of the BIC Group and today is the trademark for its premium writing instruments.
>>Read more on the official Sheaffer Pen web site
Sheaffer Pen — the manufacturer's web site — a division of BIC USA Inc.
BIC manufactures and sells stationery products under the Bic, Conté, Ballograf, Sheaffer, Wite-out and Tipp-ex brands.
Buy Calligraphy Pens from our US advertisers
MisterArt.com: The world's largest online discount art supply store! — Go to MisterArt.com and earn cash today!!!
eBay — Check eBay auctions for new and vintage fountain pens. Go to Collectibles > Fountain Pens > Sheaffer
Executive Essentials — Executive Essentials offers the finest in pens, executive gifts, desk accessories, business cases and more.
Irv's Luggage Warehouse sells brand name discount luggage and travel accessories at GUARANTEED LOW PRICES!

»search the site
or browse the
site map
SHEAFFER Calligraphy
Sheaffer Pen Calligraphy Maxi Kit
This kit contains three No-Nonsense calligraphy pens with cushioned grips, one each broad, medium and fine nibs, 14 ink cartridges, three reusable grids, step-by-step instructions and tracing guide.
[read more]

Did you know?
Raymond Savignac, the famous French poster-designer, created the BIC® Boy in 1961. He developed an advertising campaign to promote BIC's new ballpoint pen with the ball made of tungsten carbide. Hoping to attract the attention of children, he designed a schoolboy with his head replaced by the pen's ball and holding a pen behind his back.
»Read more on bicworld.com
"After the BIC pen company bought Sheaffer, one of the changes is that the US made Skrip line of inks has been replaced with eleven new inks made in Slovenia."
»Read the article by Greg Clark on inksampler.com
»More about the history of Sheaffer Skrip Ink and the recent formula changes in Sam Fiorella's article "Casey's Nightmare" from Pen Tracks, Sept.2002.