PLATIGNUM starter set [Zoom in]
1 calligraphy pen, 4 nib units: fine, medium, broad, and B3 italic nibs
2 ink cartridges, converter and nib key
SOLD OUT
Platignum pens — I used to recommend the cheap Platignum Starter Set in my calligraphy classes for beginners. The pens are still available in some stores but I do not know for how long. The Platignum web site is down.


Latest news »The Italian owned Universal Group has opened a new UK headquarters at Hinchingbrooke Business Park in Huntingdon. Universal recently acquired the long-established business of pen manufacturer, Platignum, and is relocating from Royston to the state-of-the-art Huntingdon premises.« Business Weekly 20 October 2000.

»Strategic review identifies stationery and homewares not suitable to provide long term shareholder returns.« Mentmore Abbey 1995-96

»Abbey Storage is acquired by pen and stationery manufacturer Platignum who, under new Chairman Nick Smith, wishes to expand into high-growth service sectors. Platignum changes its name to Mentmore Abbey plc.« Spaces.uk.com 1995


Platignum history— Read a brief company history, taken from the Platignum web site in October 2000.
PLATIGNUM desk set
3 calligraphy pens, fine, medium and broad italic nibs
3 ink cartridges
SOLD OUT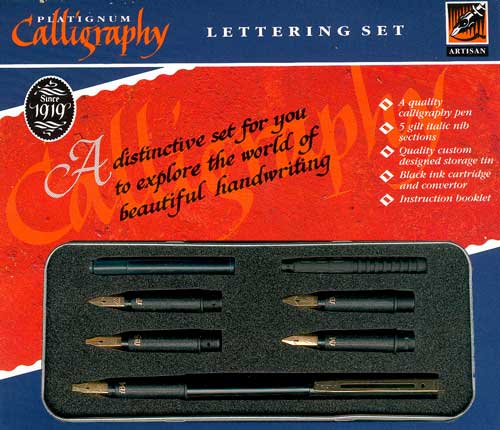 PLATIGNUM lettering set
1 calligraphy pen, 5 nib units: fine, medium, broad, B3 and B4 gilt italic nibs
ink cartridge and converter
SOLD OUT