Pen points, Nibs
Nib Store
Vintage Advertisement

»PAL — Peso Pluma, Industria Argentina, 10 Hojas de Afeitar — Vintage Argentinian Razor Blades.

home




Nibs from Argentina
There are no steel pen makers in Argentina today. The old nib boxes are from eBay auctions. Argentinian nib collector and cartoonist Fernando Martello from Buenos Aires provided information and nib scans.

YINGO 57
[Image from eBay.com]
Plumas de Acero
Industria Argentina
Calidad Superior

PLUMAS DE ACERO
[Image from eBay.com]
Dorda 200
Plumas de Acero
Industria Argentina
Calidad Superior


DORDA 200
[Image from eBay.com]
Mafort 201
Plumas de Acero
Industria Argentina
Calidad Superior

MAFORT 201
[Image from eBay.com]

Yingo 57


Lacomiuse B1


Dorda "Lanza" 58
These nibs are not for sale.



About the Argentinian nibs


All of them were produced in my country, about 40 years ago. I don't know exatly the year of manufacture, but these were used by my mother when she was a school girl, so they are really old pieces!"
Fernando Martello, Buenos Aires, 2003

Contact Fernando Martello, Argentinian
nib collector, at fermartello@yahoo.com.ar
Advertiser
»eBay — Search eBay auctions. Go to Collectibles > Autographs, Paper & Writing > Writing Instruments > Calligraphy Tools
or search for Nibs


Search • Buscar
»search the site
or browse the
site map
En Español
"Este es el sitio dedicado a las plumas fabricadas en la Argentina, las famosas »cucharita«. Espero que muchos otros fans puedan acercar sus contribuciones para que esta página siga creciendo en contenidos."
Note: In Argentina, dip pens were known as »cucharita« - little spoon pens - for its shape similar to a spoon. FM
Museo de la Escritura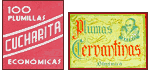 Cajitas de plumillas
Museo de los Instrumentos de Escritura Valencia, España
»El museo consta de unas doce mil piezas, tales como: estilográficas, estilógrafos, bolígrafos, lápices, afilalápices, apuralápices, portaminas, portaplumas, palilleros, cajitas de plumillas, escribanías, tinteros, frascos de tinta, secantes, secafirmas, cajas escritorio, gomas de borrar, máquinas escribir, multicopistas, expositores, bureaus, catálogos, carteles, publicitarios, pupitres, libretas para caligraf'a, carros para máquinas, objetos varios...
Lapiceras y Plumas

»Looking for pens from Latin America? — Check out Mercado Libre auctions from Argentina, Brasil, Colombia, Chile, Ecuador, México, Uruguay and Venezuela.
There are many South American sellers on eBay.com
»Search eBay for nibs, plumas or plumillas
Vintage Nib Boxes
»KENDALL 953, 954
Plumas de Calidad, Industria Argentina — Vintage Argentinian Nibs
Ariel Kullock
Fine Writing Instruments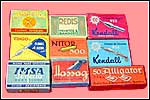 Plumas de Acero, Yingo, Imsa, Redis, Nitor, Massag, Kendall and Heintze & Blanckertz Alligator.
Vintage nibs and boxes for sale on ArielKullock.com
Weather in Buenos Aires